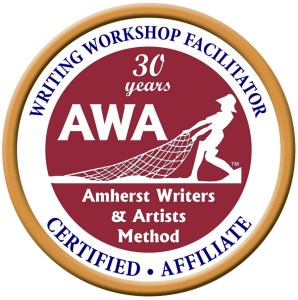 Amherst Writers & Artists (AWA) Method
WRITING FROM MEMORY OR IMAGINATION
Wednesdays, Feb. 26 — April 1, 2020
10am — noon at The Sitting Room
2025 Curtis Drive, Penngrove, CA
This workshop series focuses on generative writing with the Amherst Writers & Artists (AWA) method, which uses prompts and positive group reflection to bolster your writing practice. Participants will find a safe environment in which to experiment, learn craft, and develop each unique voice. All genres and experience levels welcome.
$120.00 for the series; no drop-ins. Size is limited to 12.
Please use my Contact page to inquire or reserve a space.
I am an AWA affiliate, certified to facilitate workshops in the Amherst Writers & Artists (AWA) method as described in Writing Alone & With Others by founder Pat Schneider, Oxford University Press.

What is the AWA method?
AWA defines a writer simply as "someone who writes." The philosophy: Writing is an art form that belongs to all people, regardless of economic class or educational level.
Everyone's writing, including the group leader's, is treated equally as fiction, or story, to protect confidentiality. If writers choose to read their work aloud, participants focus on what is strong and memorable in their responses. Timed writing sessions with a variety of prompts and immediate, positive feedback support the development of each writer.